Want a notebook with fine stationery quality ribbed paper? The Semikolon Il Creativo may be just what you are looking for.
Let's start with the stats:
152 sheets (304 pages) of cream colored, ribbed, lined, and perforated.
141 organizational stickers
soft stain resistant vinyl cover
two page makers
5.5″ x 7.48″ (also comes in small and large sizes)
The looks of the Il Creativo are bold; you are going to either love it or hate it.  While the cover comes in multiple colors the spines are all rainbow colored.  I weirdly, love it.  I like that the main cover color (yellow in this case) continues into the rainbow spine and around to the back cover.  There is some light branding on the cover; both the front and back covers read "Semikolon" with the little semicolon logo.  The spine has a large semicolon logo.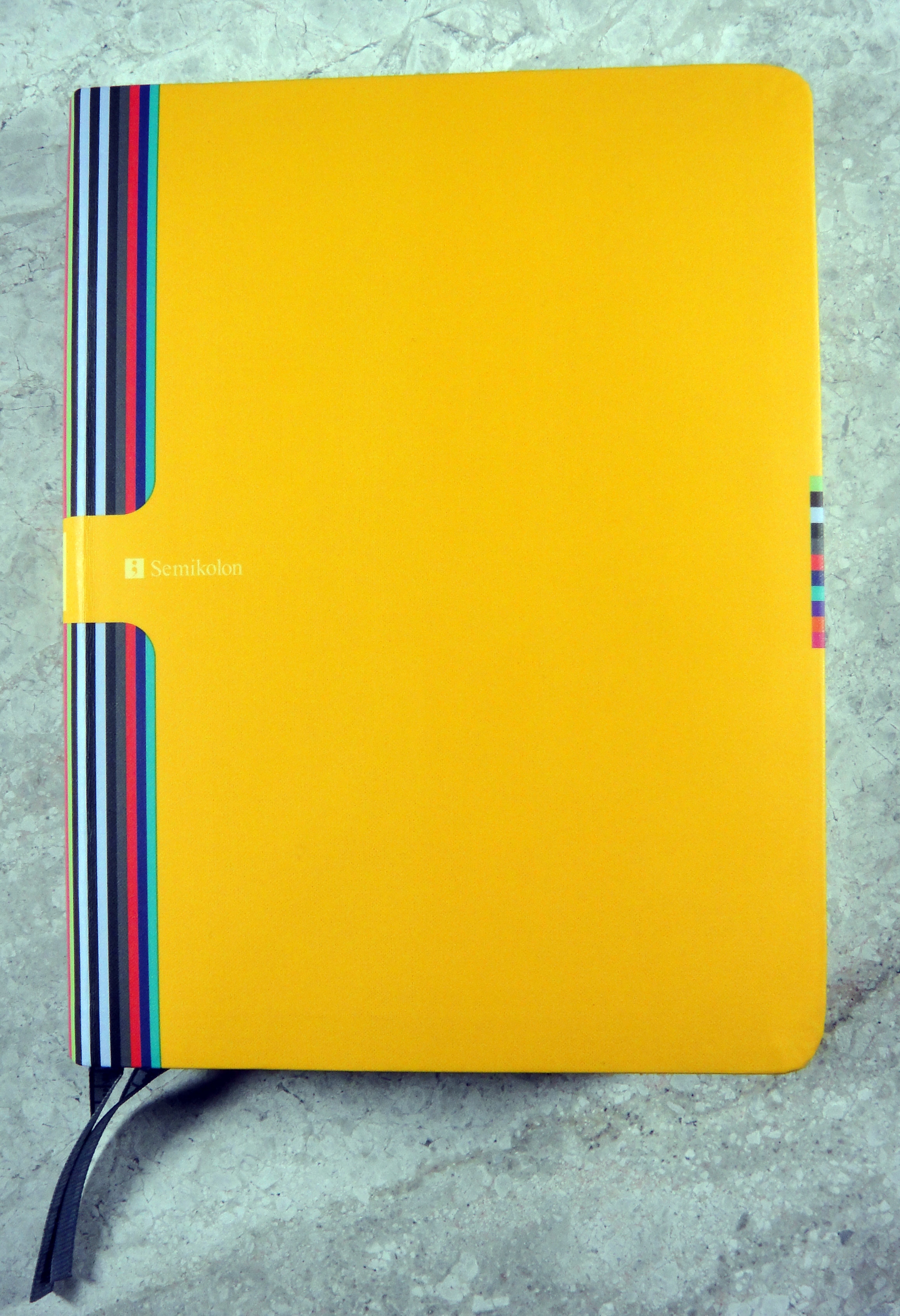 The vinyl cover is soft and has a slight texture to it that feels nice to the touch.  The inside of the cover continues the rainbow and yellow design of the outside.  The first few pages feature the days of the year in two formats (see below).  Also, I should mention that when I initially opened up the notebook there was a strong smell of glue.  The smell did seem to go away quickly as I used the notebook.
The lined pages have an unfortunately wide rule that measure 3/8″ or 9.5mm.  The lines are also darker than I would like.  The half way point is marked with the Semikolon logo that I found to be distracting. Each of the lined pages feature a perpetual calendar at the bottom of the page (to be honest I am not entirely sure how to use it properly).  The pages are nicely perforated and detach easily.
So how does the paper perform?  In a word, beautifully!  My widest, juiciest nibs behaved well, no bleeding, no feathering and very little ghosting.  The paper is a pleasure to write on as it gives wonderful feedback without being rough.  As I said earlier, it is like fine stationery paper.
Even though I may not be in love with the formatting of the Il Creativo I do love the paper and look forward to filling it up.  I will be testing out Semikolon's Mucho notebook (which uses the same paper later as the Il Creativo) this month.
Please note: this product was provided to me at no charge by Semikolon for review purposes.