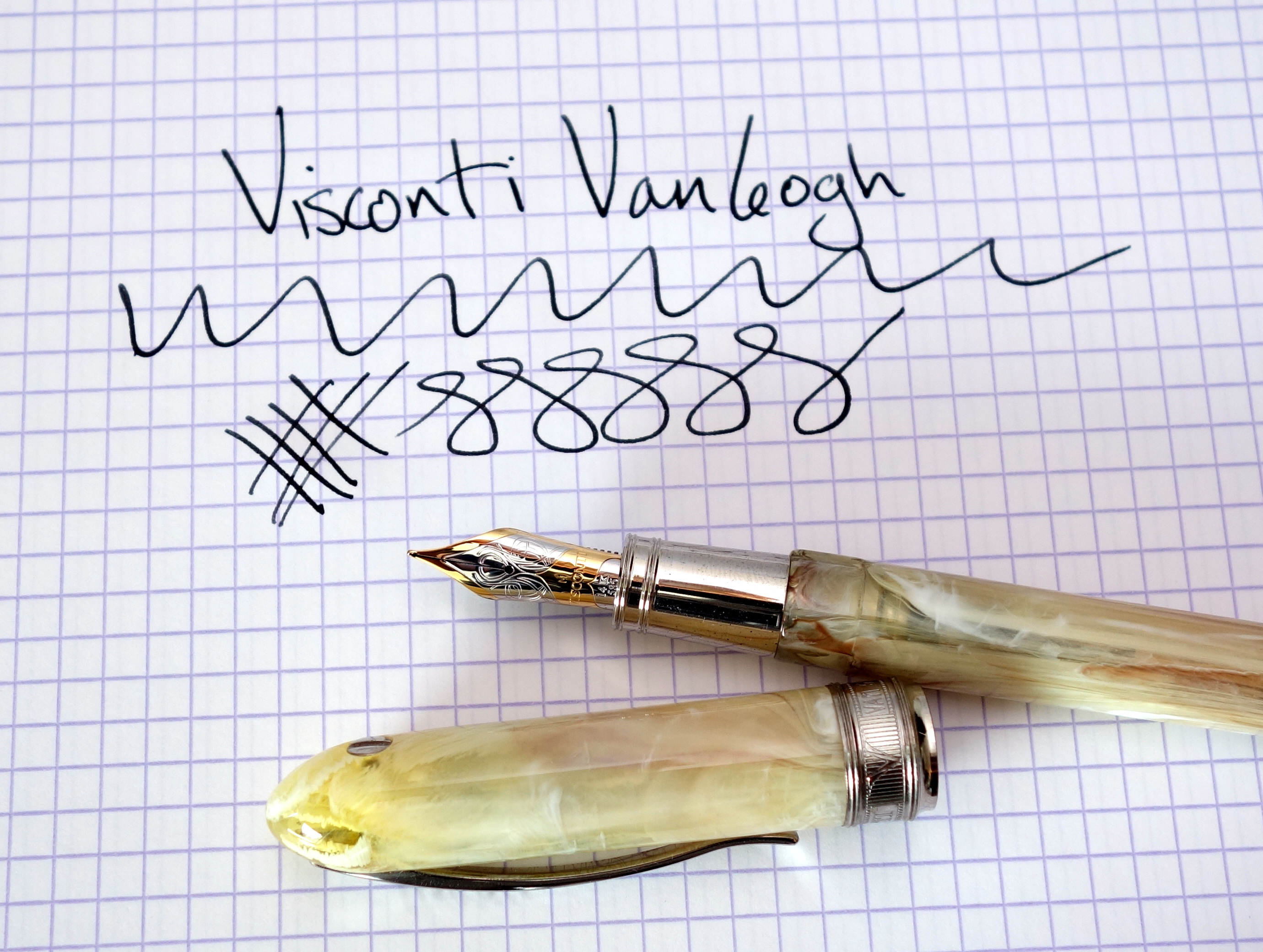 The Visconti Van Gogh was one of the very first gold nib fountain pens I owned.  I purchased this pen new from World Lux in 2002 for just under $200.  I should note that this is the original Visconti Van Gogh and it differs from the newer versions in a variety of ways.  First off it only came in the "Maxi" size at a 14.5 cm capped and was simply called the "Van Gogh".  Other differences include a solid 14kt two-tone nib (instead of steel) and a "3 K" locking mechanism on the cap (instead of being magnetic) and a round (instead of faceted) body.
Appearance
The Visconti Van Gogh is a stunning pen, especially in the vanilla resin; it works beautifully with the two-tone nib and the silver trim.  This is a large and shapely pen that attracts attention.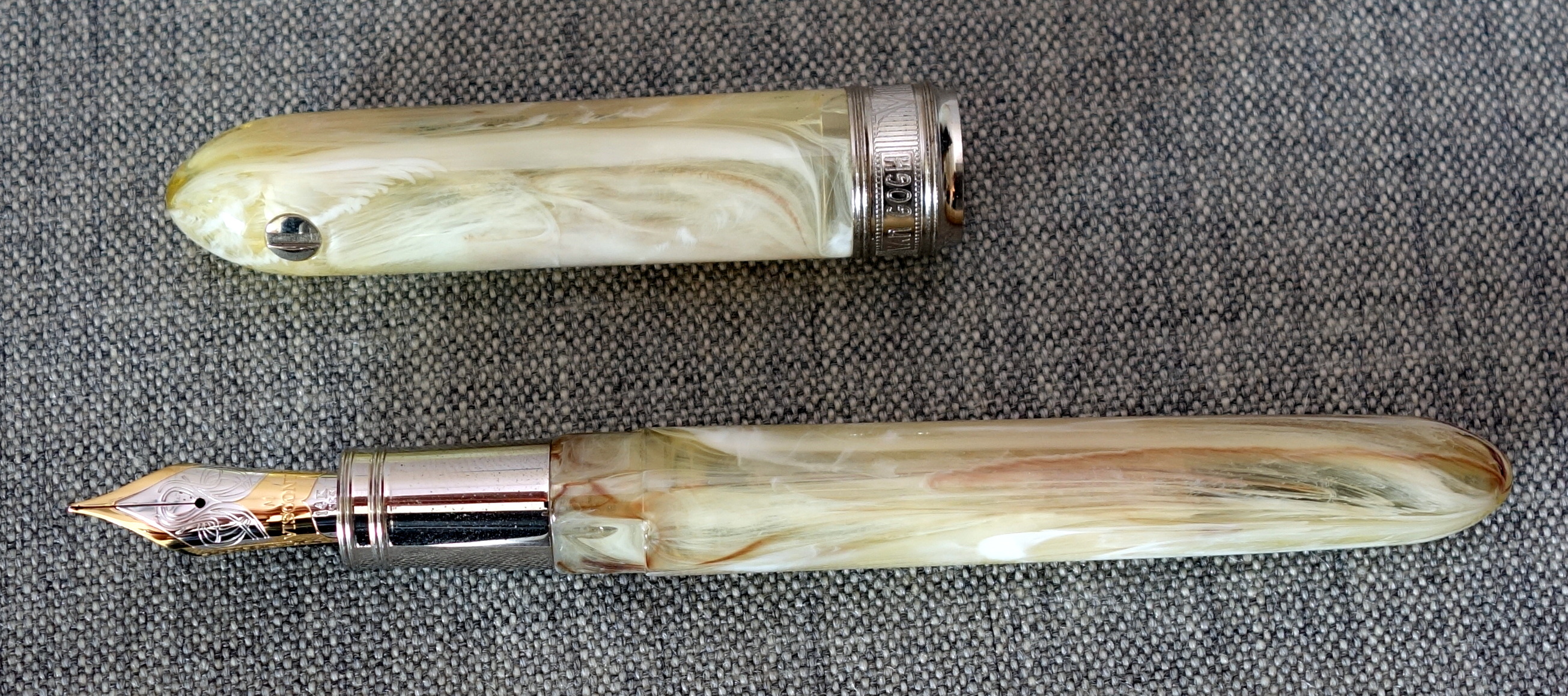 The pen is somewhat translucent allowing you to see into the barrel and the cap.  I picked this one over a couple of other vanillas because this had an unusual "crystalized" part on the top of the cap.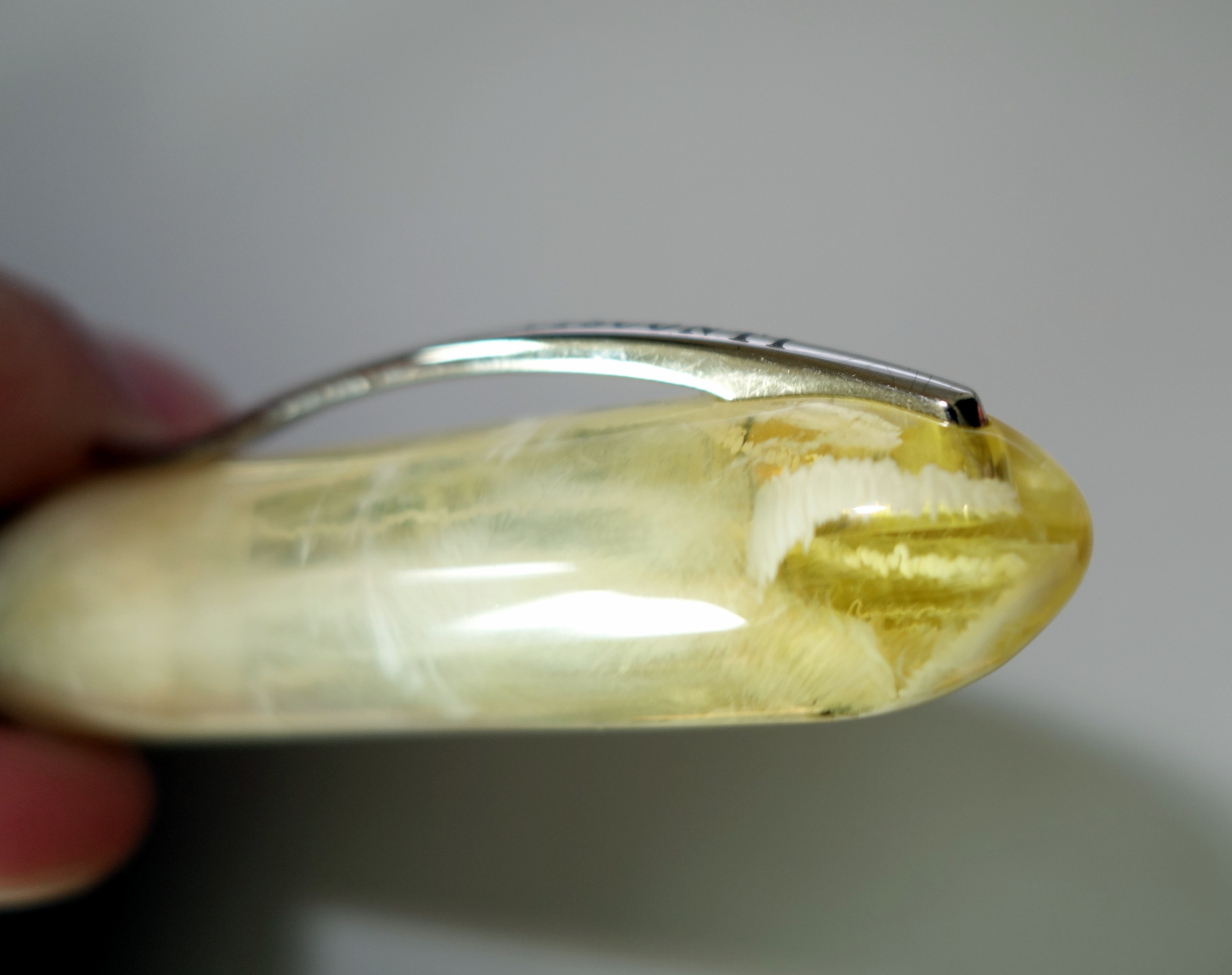 One of the things I dislike about this pen's design is the screw on the back of the cap…I cannot think of any other pen in this price range with an exposed screw.  To me it's a bit of an odd choice.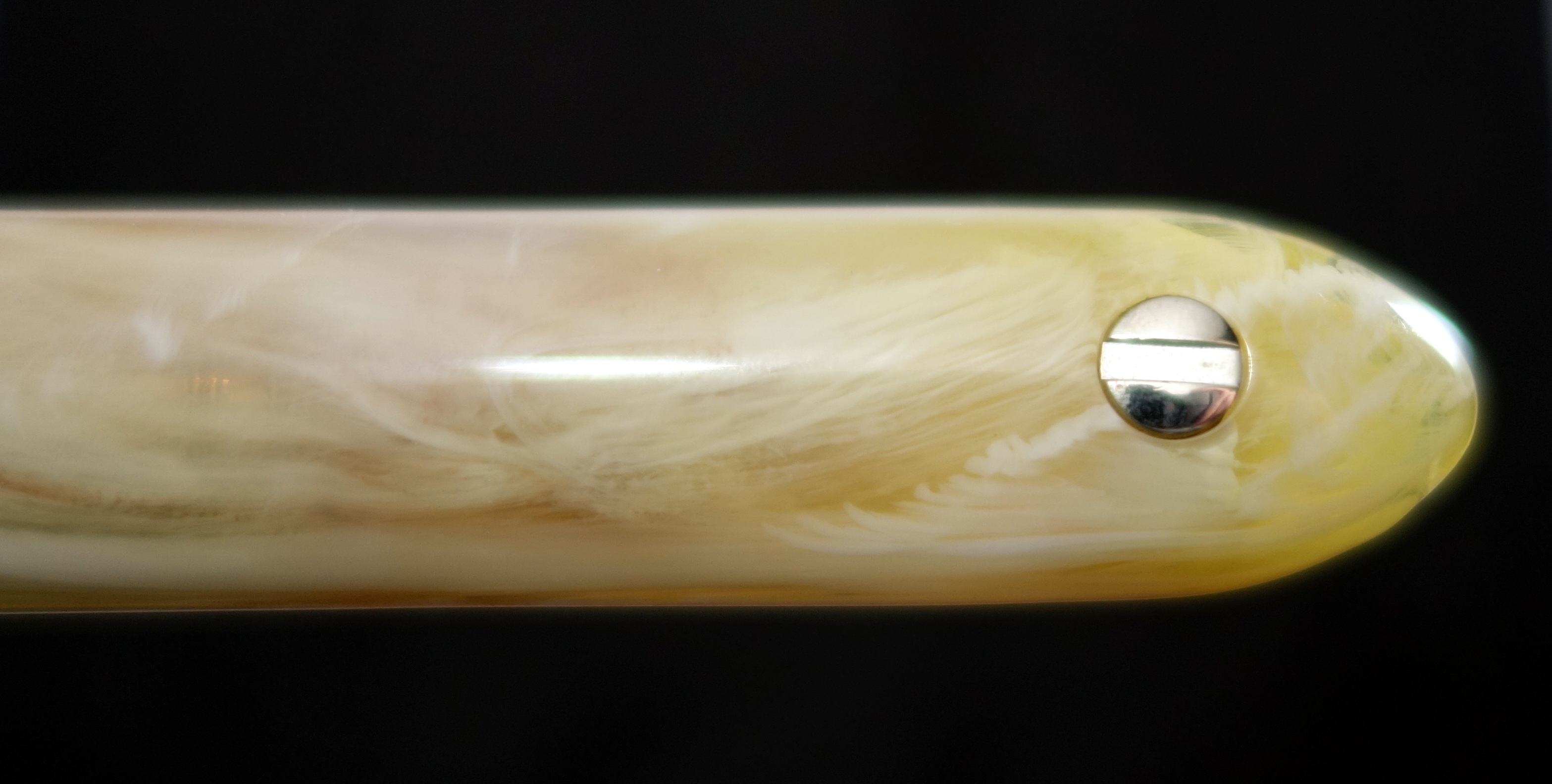 Score: 3/5
Build Quality
The Van Gogh is not a cheaply made pen; the fit and finish on the pen (including that exposed screw) are very well done.  Visconti built the Van Gogh with high quality materials and used a large highly modified ( read expensive) Bock nib.  In the last 12 years the silver trim has aged a bit and is in need of a good cleaning.
The "3K" locking system was developed by the automotive industry and it allows you to secure the cap with a short twist.  You can take off the cap with one hand; something you wouldn't be able to do on a normal threaded cap.  To my knowledge Visconti discontinued the use of this locking system because it put too much stress resin causing the caps to crack.  This is an oversight that Visconti rightly corrected though I am sure proper testing would have avoided this whole debacle.
Score: 3/5
Size & Weight
The Van Gogh is what I would consider an oversize pen, measuring a whopping 14.5 cm capped and 13.75 cm uncapped.  At it's widest point it is 1.5cm and it weighs 31.5 grams.  This pen has a heavy cap and for me it is most comfortable to use uncapped.  Uncapped the pen is a bit nose heavy but I have found it comfortable to use for long writing sessions.
Score: 2/5
Performance
 The 14kt gold nib has been a strong and reliable performer for me.  The nib has been prone to "singing" which some people will find annoying.  The medium point is quite fat, even for a European pen.  The ink flow is wet and definitely not suited to cheap papers.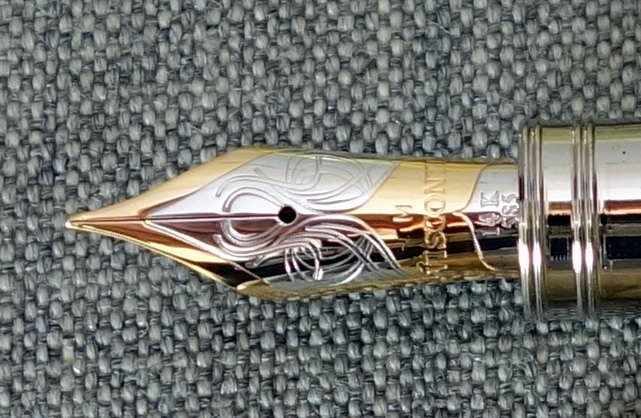 Score: 3/5
Filling System
 The Van Gogh uses a standard size cartridges and converters, though the converter does need to be threaded.  Somewhere along the way I lost the Visconti one and have replaced it with a threaded Waterman converter.
Score: 3/5
Value
When I bought this pen in 2002 for under $200 it was an excellent value as you got a beautiful large Italian fountain pen with excellent fit and finish in addition to a large 14kt gold nib.  I am not sure I could recommend anyone buy one of the original Van Goghs because of the cracking issue…mine has lasted but other's have not.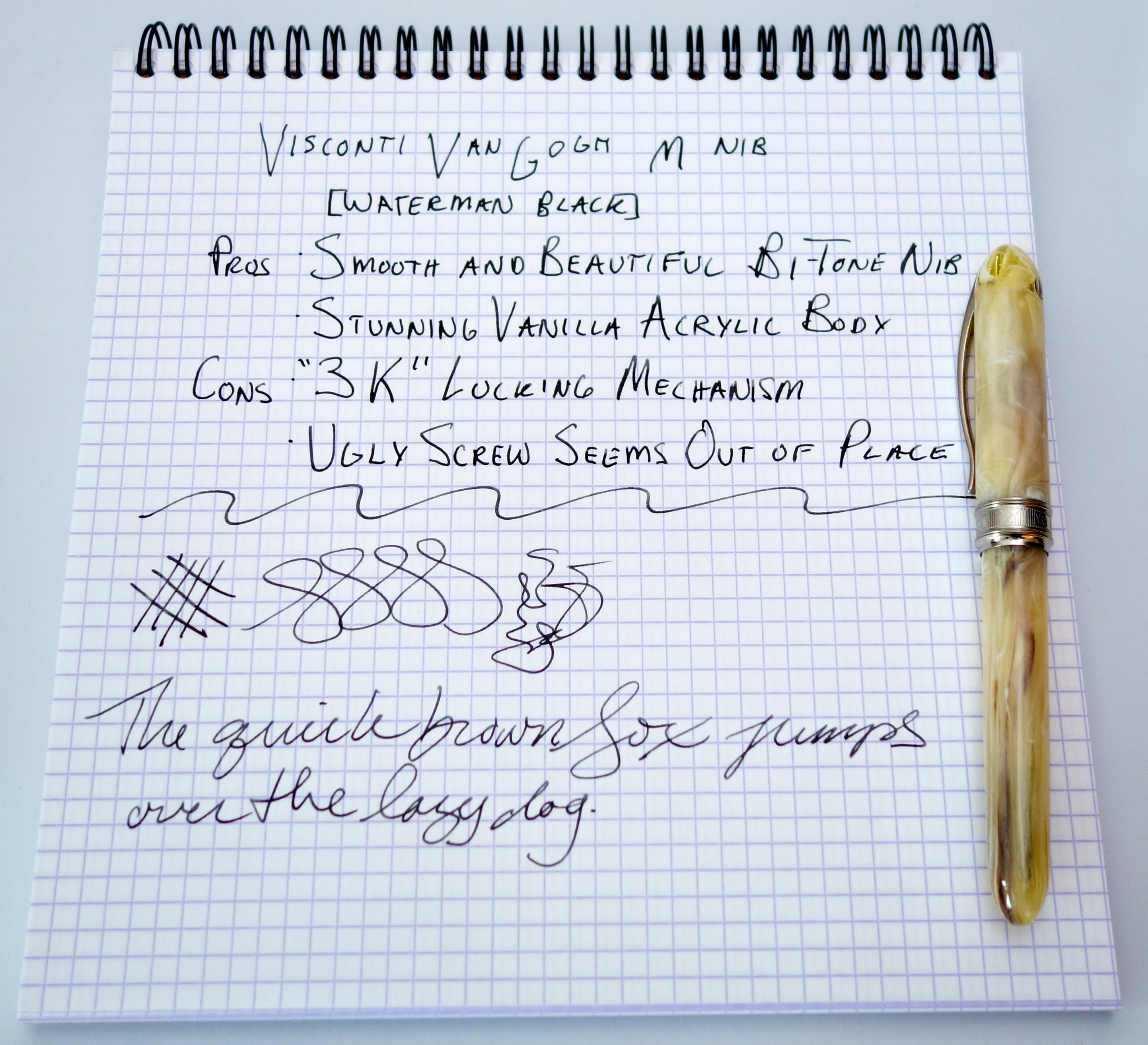 Score: 2/5
Bottom Line
The Van Gogh is a big an beautiful Italian pen but a design flaw in the cap's locking system makes it hard to recommend.
Final Score 16/30