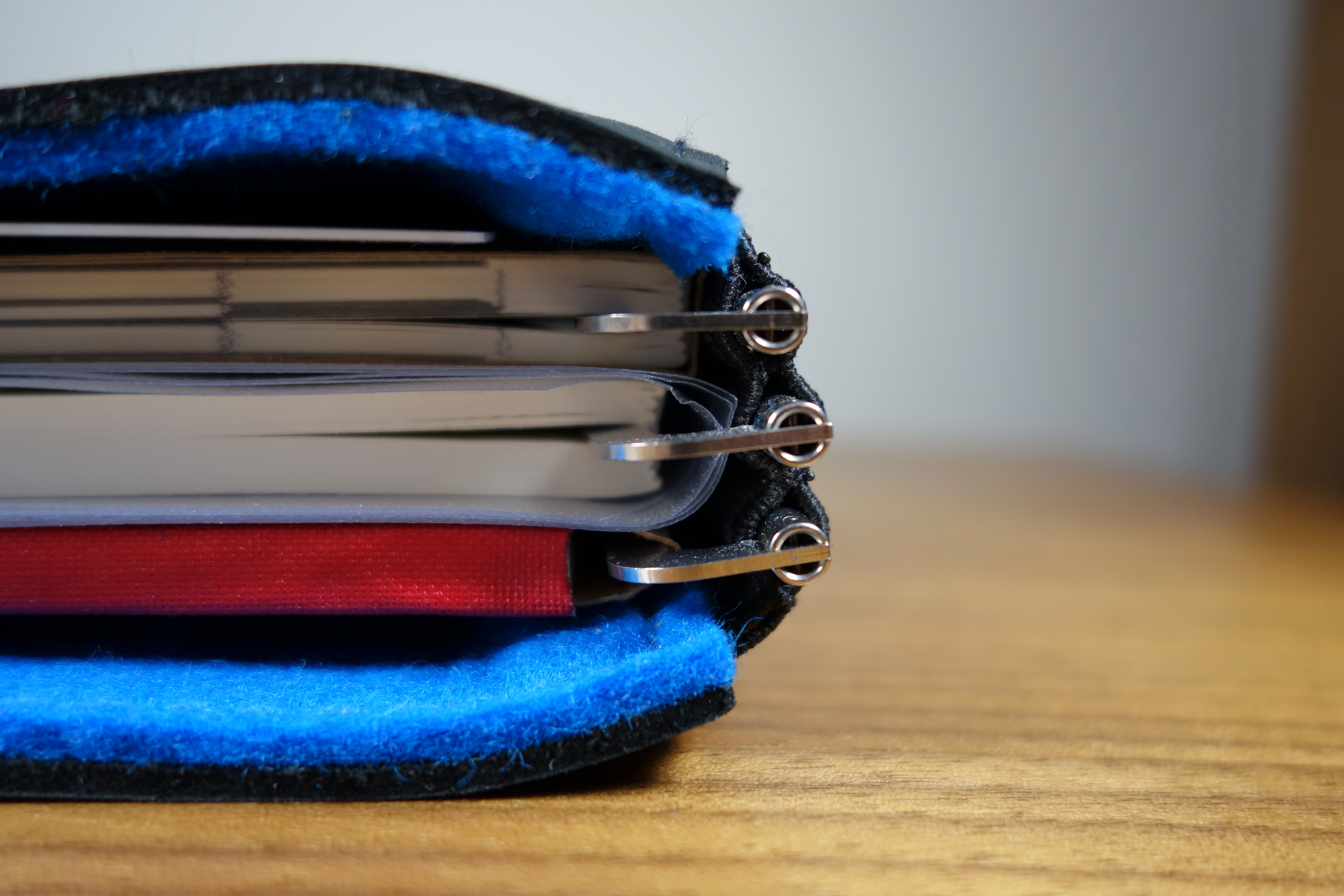 I found out about this product back in December while listening to the Pen Addict podcast (thank you Myke Hurley).
If you don't speak German, Roterfaden is the manufacturer and Taschenbegleiter is German for, "bag companion".  This is without doubt the coolest organizer I have ever had the pleasure of owning.
The Taschenbegleiter is a custom made-to-order organizer that utilizes a unique clip system that allows you to clip in all sorts of notebooks and loose paper.
The Taschenbegleiter comes in three standardized formats: A4, A5, and A6.  For the outer cover you have two material choices (in multiple colors): dance floor and leather.  Dance floor is a synthetic material that was originally used for (you guessed it) dance floors.  I opted for the black leather option.
The black leather has a suede-like finish that is very soft to the touch.  The Taschenbegleiter has a wonderful organic hand-made quality to it.  Depending on the colors and options you choose it can be more casual look or more professional looking.
For the inside material you again get two options for materials, suede and wool felt.  I chose the blue wool felt and I also chose to have my name embroidered into the felt in a light blue thread and Interstate font.  You can actually send them a picture and they will embroider it on the organizer!
There are various pocket configurations that include an option designed specifically for an iPad mini.  Instead of pockets on the back cover you get 4 elastics that hold the iPad Minis corners.  I chose the large pocket (which also fits an iPad) because it serves a dual purpose as a pocket for smaller notebooks like Field Notes and work as an iPad holder when I travel.  The downside of course is that you have to pull out the iPad every time you want to use it.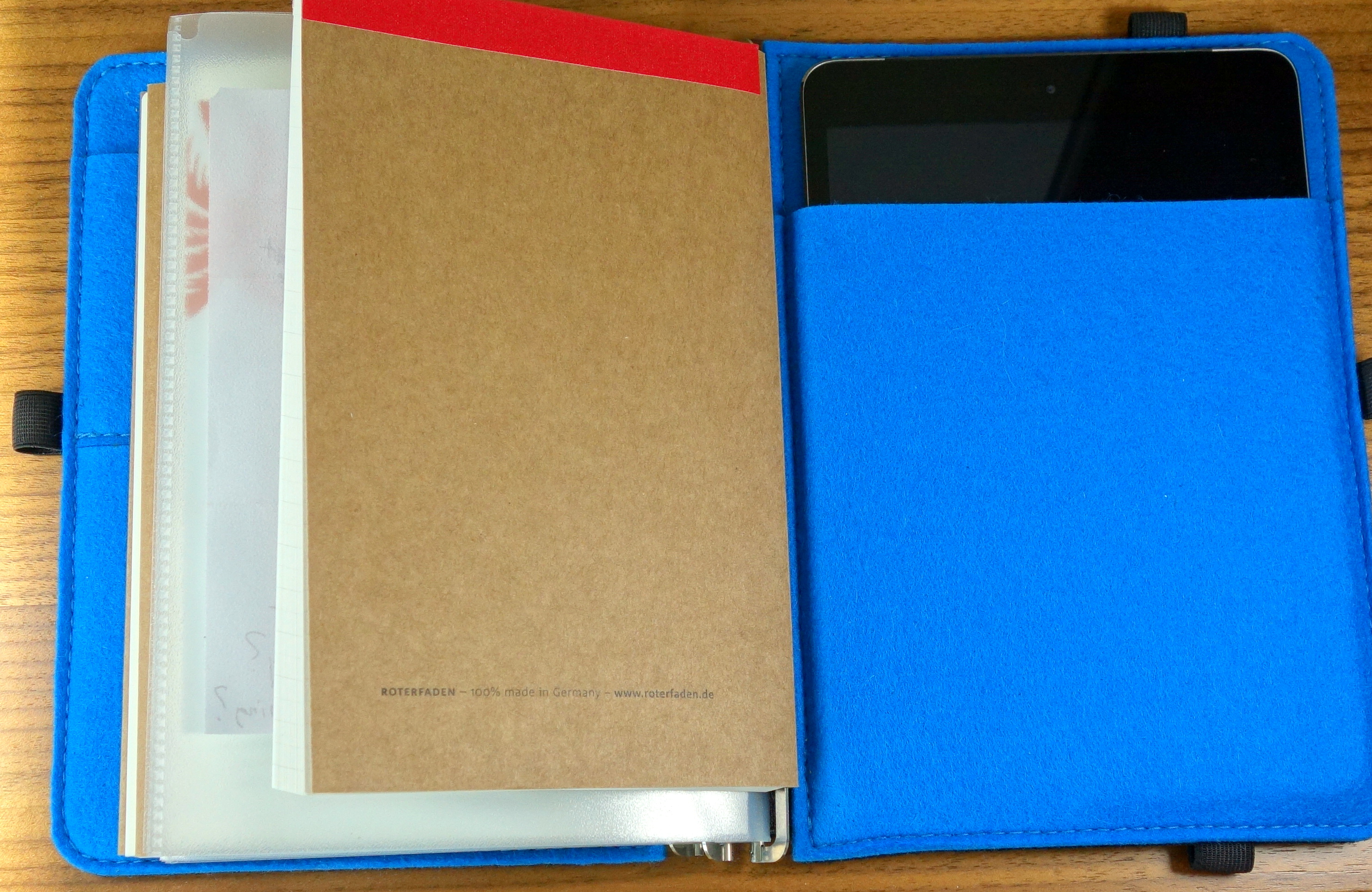 There are more options still.  You can have all the pen loops you want.  You can have them on the bottom the top or the side (as I have on mine).  If you like to use really fat pens you can specify the size of the pen you want to use and they will make the loops bigger.
You can also specify the number clips.  The standard is three but you can have none, one, two or four if you request it.  This is an important consideration because it will determine how much stuff you can put in your Tachenbegleiter and how fat it will be.  Mine is about 1.5″ wide with the three clips in use…but you can make it even fatter if you really stuff it.
Roterfaden makes various refills and inserts for the Tachenbegleiter.  They all look beautiful and are of excellent quality. Let me show you how I normally have mine loaded up:
Here are some more pictures of the unusual diary refill which has a stave on one side and a dot grid on the other.
I love the red stitching in particular.  The different booklets have different papers.  The calendar has 70g paper that does show some bleed through with fountain pens.  The 80g paper in the diary booklet holds up well to fountain pen ink.  If you write with a fat juicy nib you might get some light bleeding but nothing serious.
I have not yet had the chance to sample the 120g drawing paper booklets.  Most of the larger booklets have an optional cardboard cover and while they are not necessary they are nice to have as the booklets are otherwise protected by paper only.
Because the Taschenbegleiter comes in standard A series sizes you can put pretty much any A5 notebook in the organizer.  I have also been able to put a standard Field Notes in one of the clips (top or bottom only).  The new larger Field Notes Arts and Sciences notebooks work beautifully.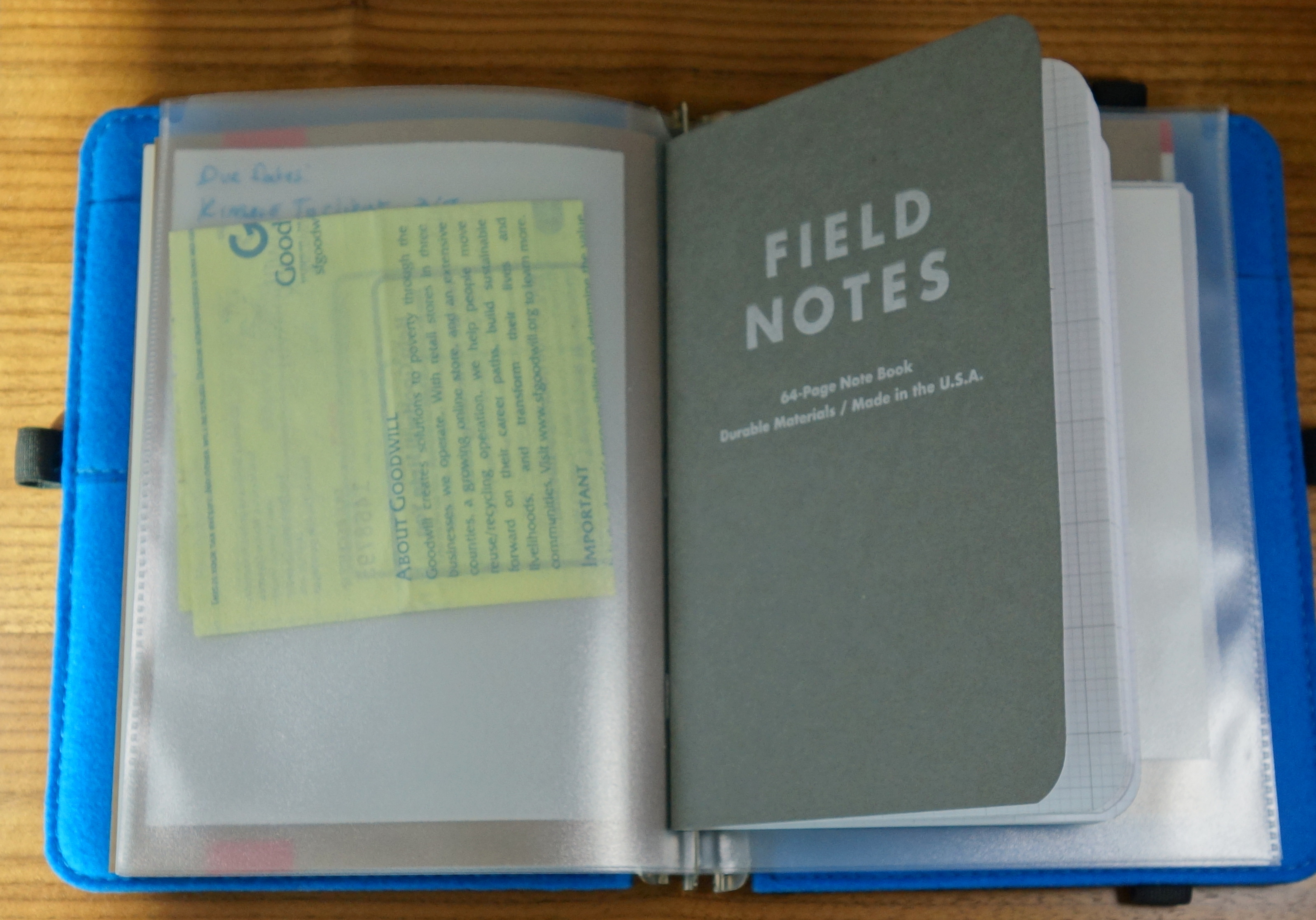 I have been using mine everyday for the last five months and there are some downsides.  The main one being that it's a pretty big organizer and its weight wont go unnoticed in you bag.  For personal travel I tend to take my smaller Midori Travelers Notebook with me (maybe I need to get an A6 Taschenbegleiter).
The other downside is the price.  It's expensive, especially if you start adding options like a leather cover and embroidery.  The basic A5 size runs 89€ or $120 USD (this includes VAT which is not applicable outside of Europe).  With options mine came to $182 USD but with VAT removed (because I live in the USA) the organizer cost about $150 USD.
While expensive, I do believe you will have a hard time finding a better quality organizer for double or even triple the price.  I have looked and I haven't found anything close.  The Taschenbegleiter is completely hand-made in Germany.
I love my Taschenbegleiter.  It is a wonderful product and I recommend it to anyone in the market for a high-quality and highly adaptable organizer.