Montblanc has released two new permanent inks, Permanent Blue and Permanent Black.  Both of these new inks are ISO 14145-2 certified; this is the same standard applied to roller ball refills with permanent ink suitable for documents.  Montblanc Mightnight Blue was previously formulated as a permanent ink but I do not believe it held this same ISO certification.  The new Midnight Blue is no longer permanent.  Interestingly, the Permanent Black costs $28 while the Permanent Blue costs $17 (same as the other MB inks).  I went for the Blue because the saleswomen couldn't explain to me why the black was worth an extra $11 (…if someone knows why please let me know).
The branding on the these new permanent inks is a little bit different.  The boxes and labels on the bottles are white instead of the normal black with a color fade.  The permanent inks use the same great 60ml Montblanc bottle which has a little hump in the middle making it easy to fill your pen when the bottle is low.  Montblanc does an all around superb job with their packaging.  There is an expiration date on the box and bottle which is a feature I love.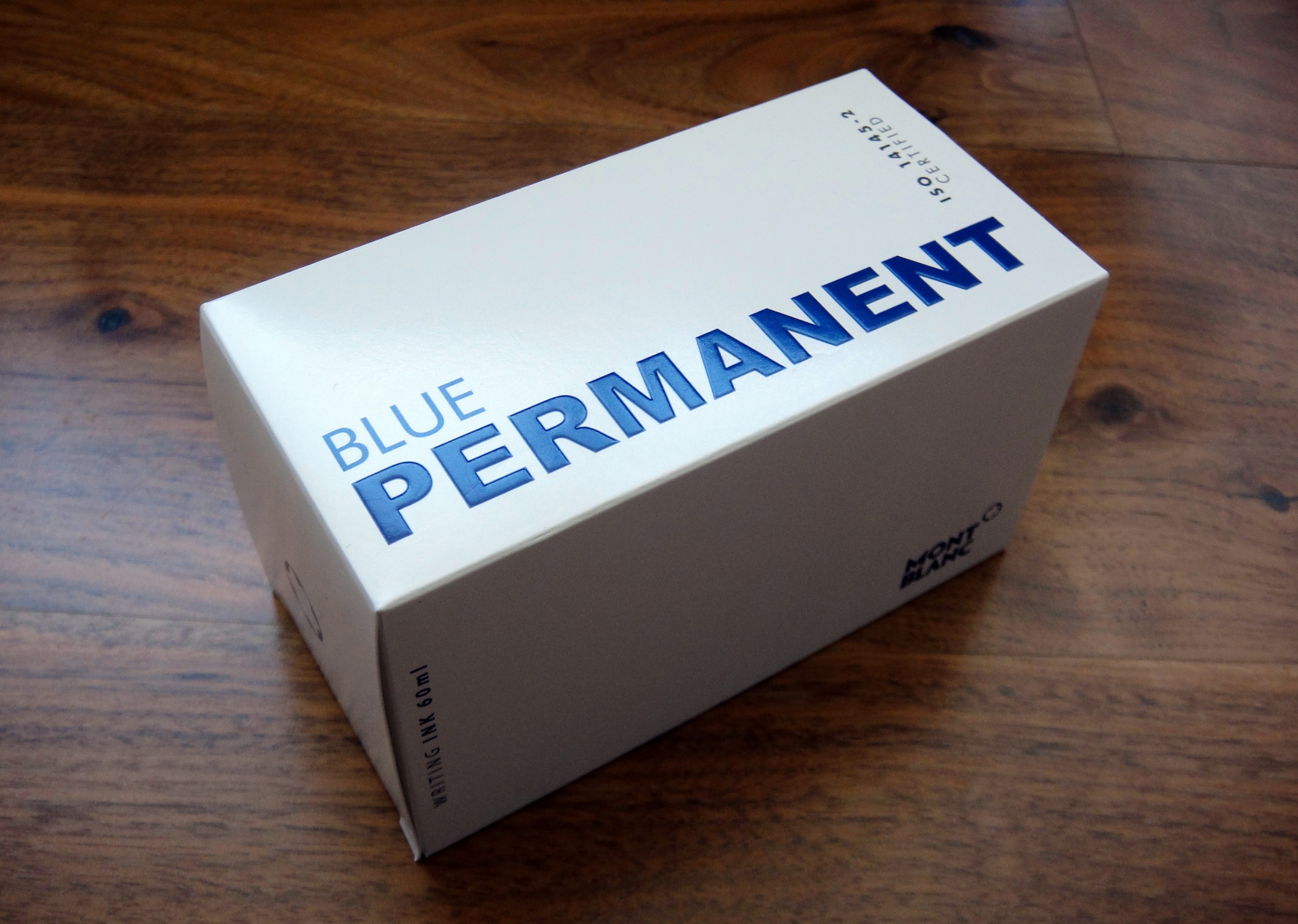 Permanent Blue is a nice true blue color with some shading.  Permanent inks tend to write on the dry side and MB Permanent Blue is no exception.  The flow was comparable to the R&K Salix (permanent) ink but noticeably dryer than the Waterman Florida Blue.  I saw no feathering in my test and the ink had an average dry time on the Maruman Smooth-To-Write paper.  I have tested the ink and it is completely waterproof.  I dripped water on the word "Waterproof?" and the result is what you see below.  Overall I really like this ink.  I am going to see how it behaves in my Pilot VP for a couple of weeks and if I don't run into any issues with clogging as I have with some other permanent inks, I will use it regularly.