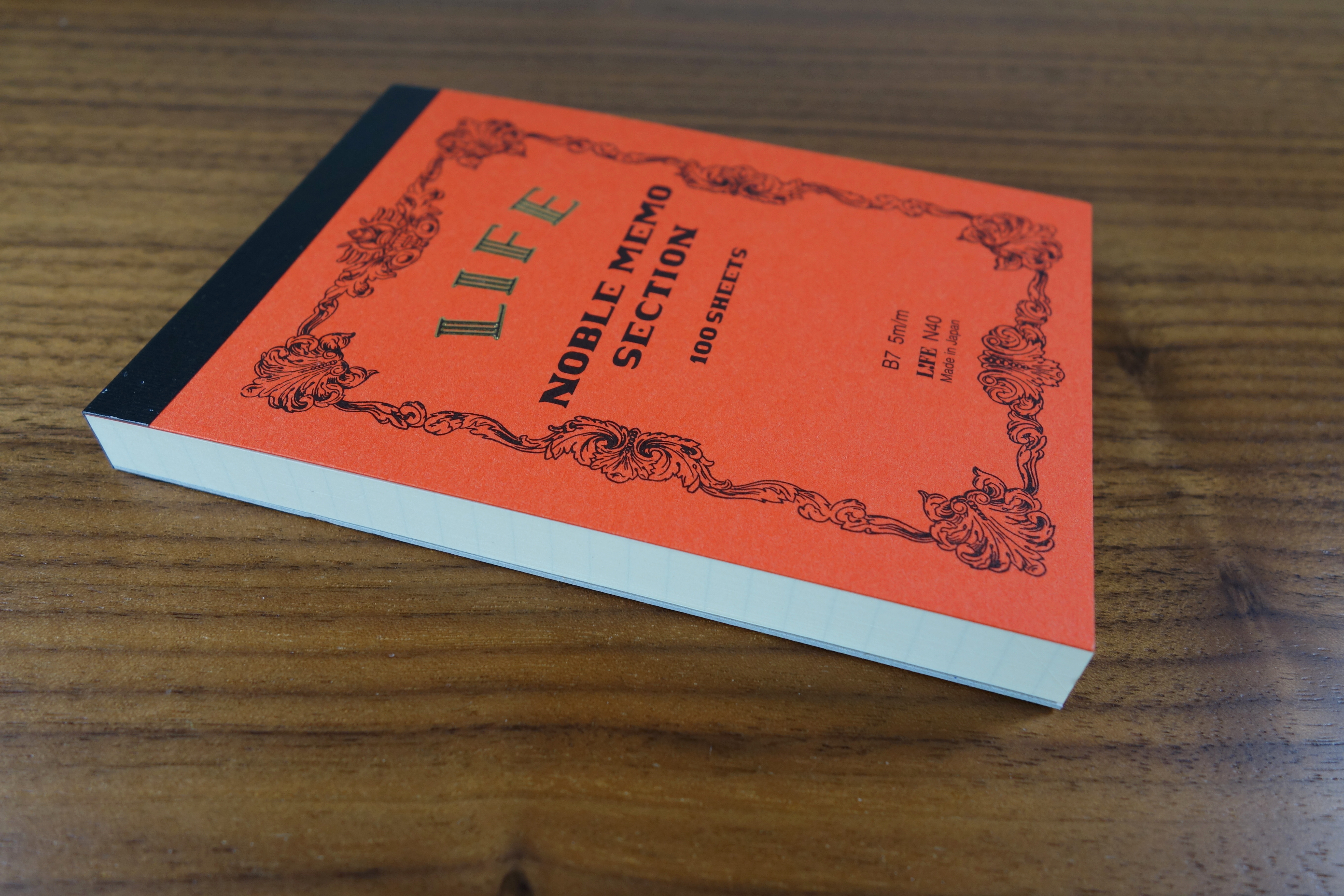 In recent years LIFE has become one of the most coveted brands of Japanese paper.  It is generally more difficult to track down than my favorites Midori and Maruman.  The prices of LIFE products in the US seem to be uncontrolled as they vary quite a bit and tend to be overpriced.
The product I will be reviewing is the B7 size LIFE Noble Memo Section pad and leatherette cover that I picked up on my recent trip to Japan.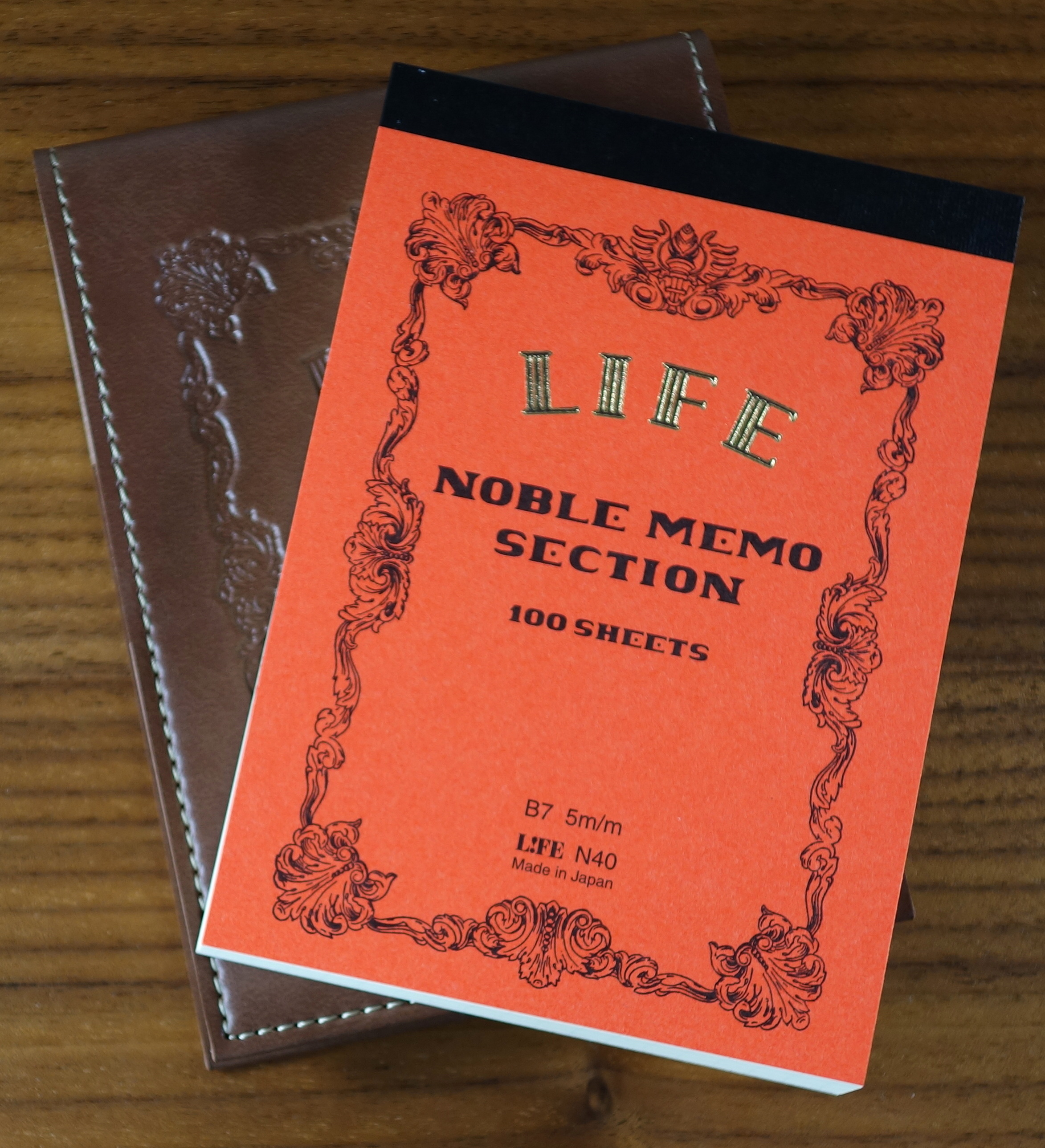 The Memo pad features 100 cream colored sheets with a faint 5mm graph.  The graph is printed on one side only; the back of the page is blank.  The orange cover has a great vintage look to it with the black scrollwork boarder and raised gold and black "LIFE" letters.
This memo pad oozes quality.  Everything on it is tight and the taped binding is one of the best I have seen.  You can open up to the middle of the book and it will lay flat and then you can close it and you would have no idea that this book as ever been open.
The cream colored pages are very high quality.  If you look at the blank side of the paper you will see that is ribbed.  I tested the paper against Rhodia's 80 GSM paper and found the dry time to be about equal.  The LIFE paper is a bit thicker and is more resistant to bleeding.  It took multiple strokes with my fat music nib to see any bleed. The grid lines seem to resist ink and while that doesn't bother me it may bother some.
The cover is a brown leatherette that looks sorta like leather but definitely doesn't feel like leather, that is to say anyone who touches it wont likely be fooled.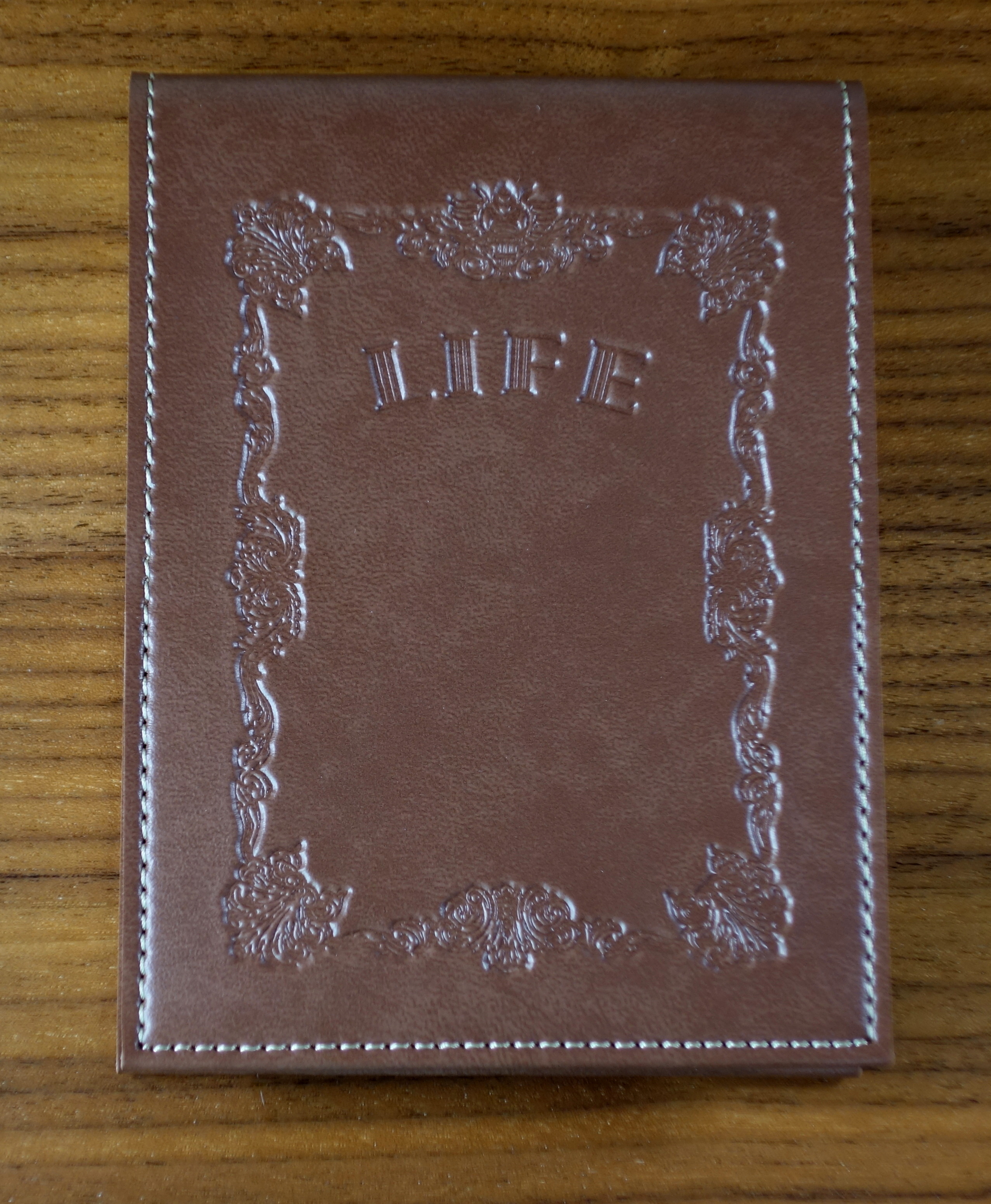 Pressed into the leatherette is "LIFE" and the same scroll work we saw on the paper cover.  The fit and finish like the notepad is immaculate with beautifully aligned stitching.  I have found that in addition to protecting the notepad the cover also helps keep the pad open when you are at the beginning of the pad.  I really wish they did this thing in leather.
So what about the price?  The notepad with notebook cover retails for 1,000 YEN which is just under $10 USD.  In the US, unfortunately, the prices are considerably higher.  I found the cover (no pad included) for $20 and I found the pad for $8.  To me even with the unusual high quality, $28 is too much money for a little notepad with a leatherette cover.  At $10 it's still expensive but much easier to justify.
The best prices I have seen for LIFE products in the US are at:
I have no affiliation and no purchase experience with this store but their prices seem to be more in line with Japanese retail.